Polar vient de lancer sa nouvelle montre GPS multisports Grit X, destinée principalement à la foule des amateurs de plein air qui penche légèrement plus vers les coureurs et les randonneurs ultra que les autres groupes. Pourtant, la montre possède la grande majorité des tripes et des fonctionnalités d'une montre de la série Polar Vantage (ne vous inquiétez pas, nous entrerons dans les nuances dans une minute). Mais il n'est pas considéré comme le successeur de la série Vantage. Il s'agit plutôt d'une catégorie de produits adjacente.
La montre dispose de nouvelles fonctionnalités, notamment Hill Splitter qui compte automatiquement vos répétitions de colline, ainsi que de nouveaux bits de guidage nutritionnel à mi-entraînement et après l'activité. De plus, il dispose d'instructions d'itinéraire tour par tour lorsqu'il est associé à Komoot. Plus une poignée d'autres modifications mineures telles que des spécifications d'étanchéité améliorées et des informations météorologiques supplémentaires. Oh, et la nouvelle autonomie de la batterie GPS de 100 heures.
J'utilise le Polar Grit X depuis un moment, collectant des tonnes de données, lançant les plus grandes collines et les itinéraires les plus intéressants que je puisse. J'ai beaucoup de données sur la précision, la fonctionnalité et bien plus encore dans cet examen. Ce qui fonctionne bien et ce qui pourrait nécessiter un peu plus d'amour.
Maintenant, si vous voulez une vue consolidée de cela dans une seule vidéo au rythme rapide, ne cliquez pas plus loin que le bouton de lecture ci-dessous:
Enfin, notez que Polar a envoyé une unité de prêt multimédia pour l'essayer. Une fois que j'aurai terminé, je leur répondrai et je prendrai le mien auprès des canaux de vente au détail normaux. Si vous avez trouvé cet avis utile, cliquez simplement sur les liens à la fin pour soutenir le site.
Quoi de neuf: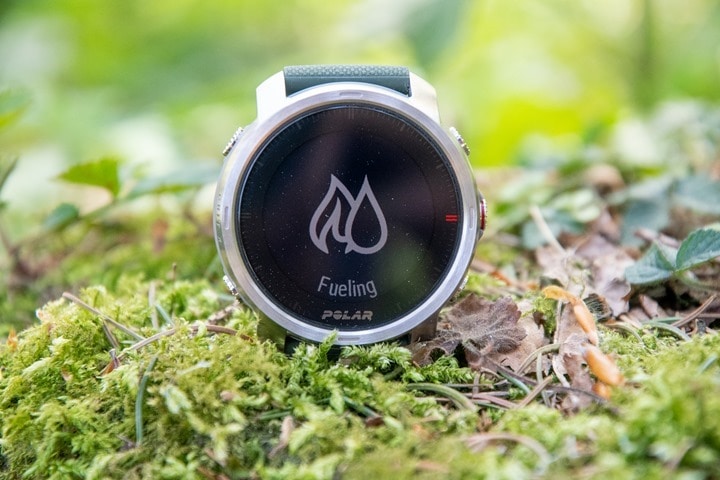 Comme indiqué, le Polar Grit X est conçu pour être une variante plus robuste et axée sur la montagne de la série Vantage. Pensez à l'époque de la gamme Garmin Fenix ​​par rapport à la gamme Garmin Forerunner. De nos jours, cette ligne est beaucoup plus floue, mais si vous devenez old-school, elle était plus claire. La base du Grit X est simplement une Polar Vantage V avec quelques fonctionnalités supplémentaires. Cependant, deux fonctionnalités ne sont pas présentes sur le Grit X qui étaient sur le Vantage V (Recovery Pro & Orthostatic Test). À l'inverse, on pourrait dire qu'il s'agit plutôt d'une Vantage M améliorée. D'une manière ou d'une autre.
Voici ce qui est nouveau par rapport à la série Vantage dans son ensemble:
– Ajout de Hill Splitter: compte automatiquement vos montées / descentes de colline à mi-entraînement et dans l'application par la suite
– Ajout de FuelWise: donne des alertes nutritionnelles à mi-entraînement pour les glucides et l'hydratation (séparément)
– Sources d'énergie ajoutées: montre la répartition des glucides / graisses / protéines après l'entraînement sur la montre / l'application
– Ajout de la météo: il s'agit d'un widget qui montre la météo actuelle sur la montre
– Ajout du mode de suivi GPS de 100 heures: ce mode d'économie d'énergie réduit les points de suivi pour augmenter la durée de l'activité (ainsi que via une nouvelle fonction «économiseur d'écran»)
– Ajout de l'intégration de l'itinéraire Komoot: officiellement la navigation «tour par tour», bien que la définition de cela soit un peu vague
– Passé aux boutons de préhension métalliques: ce sont bien, bien meilleurs que les boutons Vantage
– Changement du capteur optique HR: changement notamment des types de LED colorées qu'il utilise
– Utilise un bracelet standard de 22 m: le Vantage V était personnalisé, mais le Vantage M utilisait un bracelet standard de 22 m
– Augmentation des spécifications d'étanchéité: celle-ci est augmentée de 30 / 50m à 100m
– Suppression de Recovery Pro: cette fonctionnalité était dans la gamme Polar Vantage V, ce n'est pas dans le Grit X
– Suppression du test orthostatique: cette fonctionnalité était dans les gammes Polar Vantage V / M, ce n'est pas dans le Grit X
Ouf, tout ça? Bien. Déballons ce truc.
Déballage:
La boîte ressemble à peu près à n'importe quelle autre montre Polar récente. Vous allez faire glisser la coque extérieure en papier pour trouver la boîte se divise en deux, révélant le grain X:
À l'intérieur, il y a un chargeur, des étoffes en papier et la montre bien sûr.
Les morceaux de papier comprennent le manuel et certaines informations sur le type de garantie:
Pendant ce temps, le chargeur est le même chargeur que les montres de la série Vantage, ce qui facilite leur permutation. J'aime ce modèle d'entreprises qui parviennent à conserver le même chargeur depuis plusieurs années maintenant. Il est plus facile d'emprunter un chargeur à un ami si le champ est plus grand. En espérant que cela continue!
Oh, et puis la montre elle-même. Ne vous inquiétez pas, vous en verrez beaucoup de photos au cours de cet examen!
Du point de vue du poids et de la taille, à 66 g, elle est presque identique à la montre de la série Polar Vantage V (64 g), mais elle est légèrement plus lourde que les unités Polar Vantage M (45 g).
Pour une comparaison rapide sur la qualité / visibilité de l'écran, le Grit X semble avoir un écran plus lumineux, mais aussi un écran légèrement plus clair. Fini le léger flou que vous voyez sur une Polar Vantage V, remplacé par les noirs plus croustillants et plus profonds du Grit X – mais probablement en utilisant l'écran Polar Ignite à la place. À première vue, les écrans peuvent sembler similaires ci-dessous, mais notez le côté gauche de l'écran ainsi que les chiffres. Encore une fois, il est un peu difficile d'illustrer cela en photo autant qu'en personne.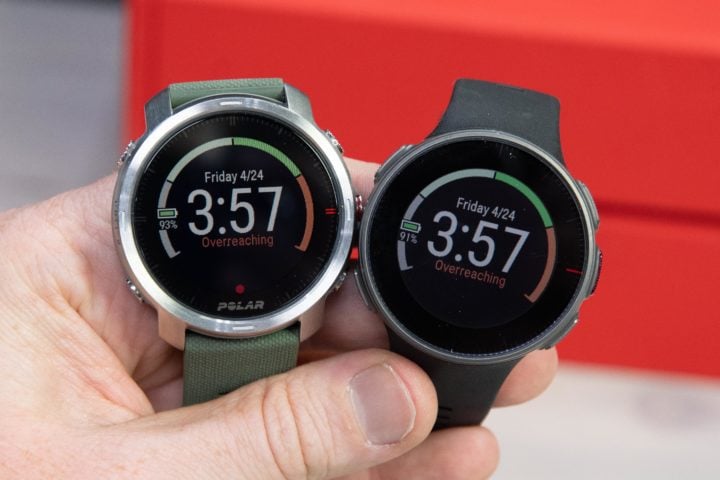 Du point de vue du rétroéclairage, il est considérablement plus lumineux sur le Grit X. J'ai essayé de prendre une photo de cela dans un placard sombre, mais j'ai abandonné après la 17e photo floue.
Sur ce, plongeons dans les détails.
Les bases:
Dans cette section, je couvrirai toutes les fonctionnalités non sportives du Grit X. Ainsi, des aspects tels que l'interface utilisateur, le suivi d'activité, le suivi du sommeil, etc. La montre reflète celle de la série Vantage V pour toutes les fonctionnalités sauf deux (Recovery Pro et Orthostatic Test), donc si vous connaissez cette unité, vous pouvez probablement parcourir cette section plus rapidement.
La montre possède à la fois un écran tactile et cinq boutons dédiés. Les boutons de celui-ci sont super croustillants et ressentis (en termes de pression) par rapport à la série Vantage. Côte à côte avec une Vantage V, les boutons semblent pâteux, alors que ceux-ci sont tranchants et faciles à appuyer. Il y a également une légère vibration chaque fois que vous appuyez sur un bouton.
Vous pouvez également utiliser l'écran tactile pour parcourir les pages du menu, bien que je trouve le taux de réussite un peu faible (même assis ici dans un bureau sec en tapant ceci, et encore moins à l'extérieur). Je m'en tiendrai donc en grande partie aux boutons.
Les bracelets utilisent des bracelets de montre standard de 22 mm, ce qui signifie que vous pouvez aller sur Amazon ou autre et acheter n'importe quel groupe créatif que vous voulez, comme celui-ci un bracelet Polar Bear de 22 mm (sérieusement). C'est remarquable car la Vantage V n'avait pas cela, mais la Vantage M.
Sur le dessous de la montre se trouve le nouveau capteur optique. Ce qui est remarquable ici, c'est que, précédemment, sur les montres de la série Vantage, Polar a déployé un réseau de capteurs similaire. Cependant, dans le Grit X, ils ont complètement changé la couleur des LED. Plus précisément, il y avait auparavant 9 LED (5 vertes, 4 rouges, + 1 jaune inutilisée). Mais dans le Grit X, il y a maintenant 10 LED utilisées (5 rouges, 4 orange / jaune, 1 verte).
En règle générale, les LED de différentes couleurs gèrent mieux les différentes couleurs de peau. En outre, certaines couleurs ont tendance à aller plus profondément que d'autres, qui sont meilleures à des profondeurs plus faibles. Polar a longtemps joué avec différentes LED pour essayer d'augmenter la précision. Et honnêtement, en général, Polar semble changer son capteur optique HR avec chaque produit. Mais ce qui est également vrai, c'est que la précision continue de grimper et je les classerais facilement parmi les capteurs optiques HR les plus précis du marché.
Les capteurs optiques de FC enregistrent votre fréquence cardiaque 24 × 7 lorsqu'ils sont activés (par défaut, ils ne sont utilisés que pour les entraînements).
Sur le devant de la montre, il y a une poignée de pages principales du tableau de bord. Vous pouvez balayer vers la gauche ou la droite pour obtenir la vue d'ensemble, puis balayer vers le bas pour obtenir plus de détails. Vous pouvez également utiliser les boutons de la même manière. Le premier est les métriques de sommeil de recharge nocturne. Ceux-ci n'apparaîtront pas tant que vous n'aurez pas suivi trois nuits de sommeil. Les statistiques de recharge nocturne regardent essentiellement à quel point vous êtes rechargé via le sommeil ANS.
La plupart de ces mesures de sommeil plus profondes provenaient du Polar Ignite, y compris la fréquence respiratoire par nuit et les données VRC:
Cependant, même si vous n'avez pas enregistré trois jours de sommeil, vous pouvez obtenir les statistiques de sommeil plus générales, y compris l'heure à laquelle vous vous êtes endormi / réveillé, ainsi que le numéro de charge de sommeil (qui est essentiellement un score de sommeil):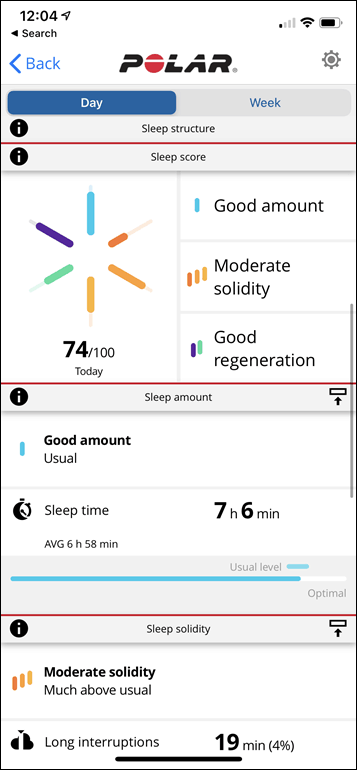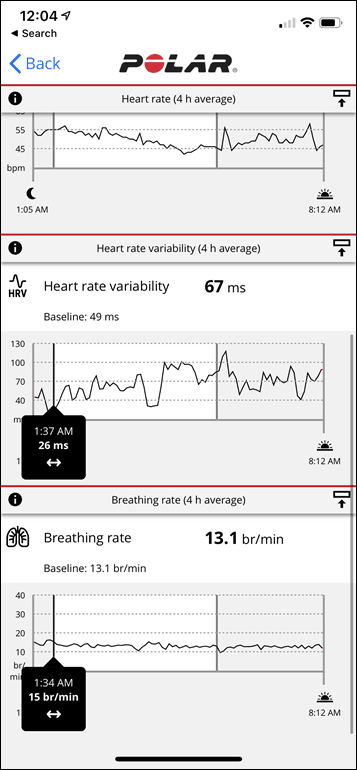 Tout cela se trouve également dans l'application pour smartphone Polar Flow (ou sur le site Web). Là, vous pouvez également effectuer des tendances sur des périodes plus longues si vous souhaitez: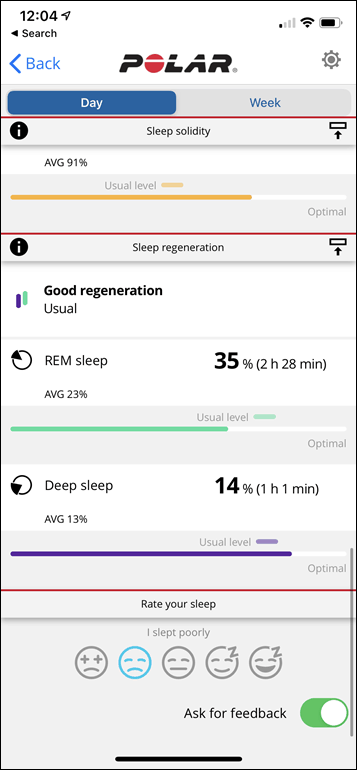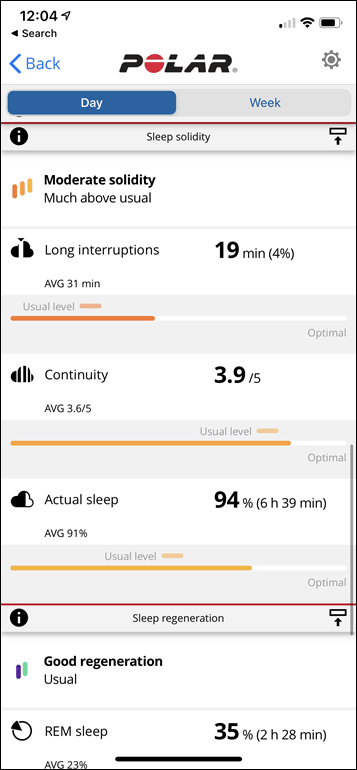 Sur la page de montre principale suivante se trouve FitSpark. Cela vous offrira une poignée d'exercices différents pour cette journée, uniques à votre niveau de forme physique actuel. En d'autres termes, si vous avez fait un entraînement intensif les jours précédents, cela vous donnera probablement quelque chose d'un peu plus facile, et en précisant également un niveau d'intensité donné: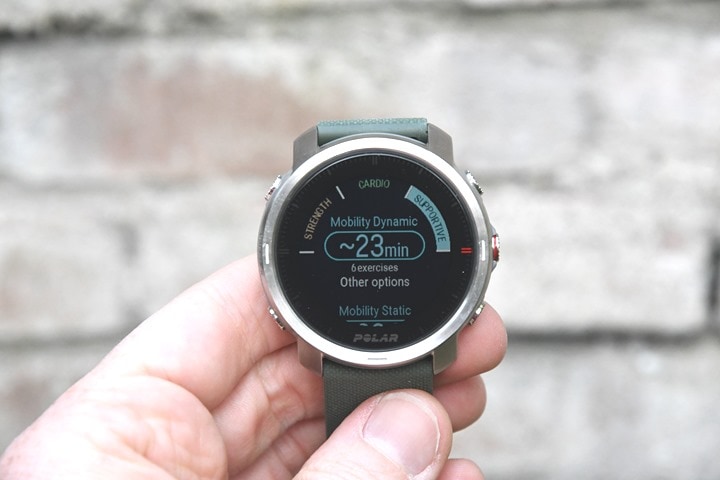 Vous pouvez faire défiler vers le bas pour obtenir d'autres types d'entraînement, comme un entraînement de force ou de soutien (flexibilité), ou un autre entraînement cardio d'intensité peut-être plus courte. Je vais plonger dans FitSpark un peu plus tard dans la section sports.
La page suivante est la météo. Ceci est nouveau sur le Grit X et vous montrera la météo pour les prochaines heures. Vous pouvez l'ouvrir pour voir le haut / bas projeté pour la journée, ainsi que la pluie, la vitesse du vent, la direction du vent, l'humidité et les prévisions pour les prochains jours avec des détails variables: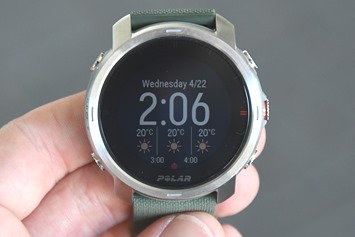 Ensuite, il y a le dernier entraînement que vous avez fait. Il affichera le nombre d'heures depuis cet entraînement et vous pouvez appuyer dessus pour ouvrir l'historique de cet entraînement: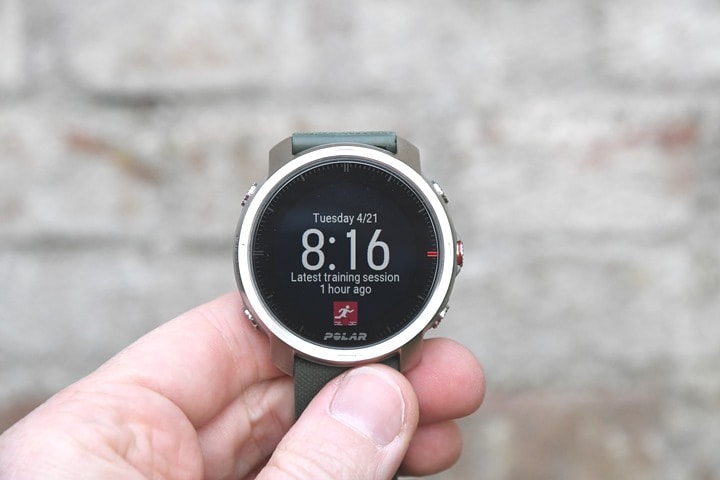 Ensuite, il y a la page d'état de charge cardio. Cela s'affichera également après 8 jours de sessions et détaillera la répartition de votre entraînement actuel et si vous faites du surentraînement ou du sous-entraînement. C'est la même chose que sur les montres de la série Polar Vantage V & M. Plus d'informations à ce sujet plus tard dans la section sports.
Après cela, nous avons un suivi général de l'activité. Cela couvre des éléments tels que les pas parcourus, la distance parcourue par rapport à votre objectif de pas ainsi que les calories.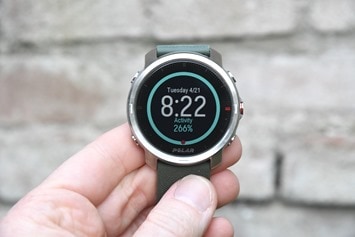 Et puis un écran séparé pour vos statistiques de fréquence cardiaque actuelles (en supposant que vous ayez activé le suivi de la fréquence cardiaque 24 × 7). Il affichera votre fréquence cardiaque actuelle sur l'écran principal, mais vous pouvez plonger pour voir votre FC maximale et minimale pour la journée, ainsi que la FC au sommeil la plus basse de la nuit précédente.
Oh, et puis il y a l'heure et la date sur un dernier écran.
Comme indiqué précédemment, tous ces éléments se synchronisent avec l'application Polar Flow. C'est là que vous pouvez voir vos entraînements terminés, créer des entraînements, voir le suivi des activités quotidiennes et tout ce que vous attendez d'une montre intelligente. Je couvrirai en grande partie les pièces spécifiques au sport dans la section sur l'utilisation du sport. Mais dans les paramètres, vous pouvez également accéder aux paramètres généraux de la montre:
Certains de ces paramètres (et bien d'autres) peuvent également être trouvés en ligne via l'application Flow Desktop, ainsi que via la montre elle-même en appuyant sur le bouton inférieur gauche: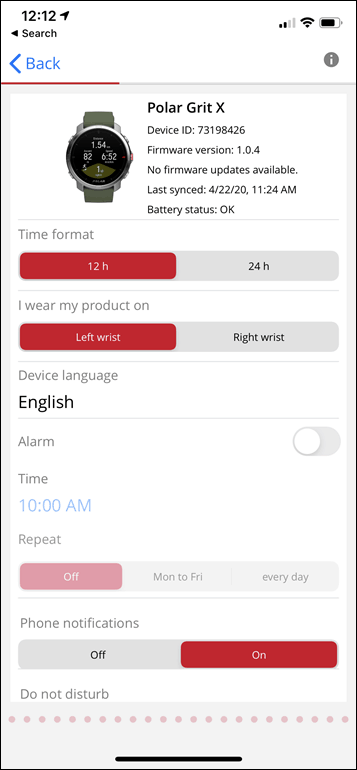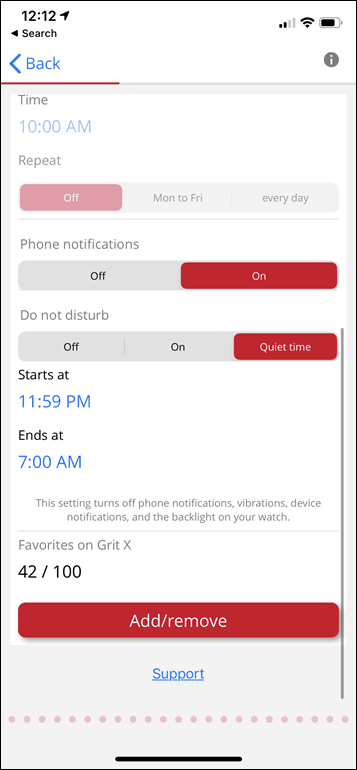 Et enfin, si vous avez besoin de vous détendre un peu après avoir regardé les actualités du jour, vous pouvez utiliser la fonctionnalité de respiration guidée Serene. Vous y accéderez également dans le bouton en bas à gauche, puis jusqu'à Serene:
Vous allez configurer la durée totale ainsi que les longueurs d'inspiration / expiration. Ensuite, vous vous dirigez vers le canapé.
En parlant de choses qui ne sont pas propices à la relaxation, il y a les notifications pour smartphone. Ceux-ci sont pris en charge dans toutes les applications et gérés au niveau iOS / Android. Cependant, je noterai que j'ai eu des problèmes intermittents avec les délais de notification. Polar l'examine et ne peut pas encore le reproduire de leur côté, alors j'espère que c'est juste un truc « moi ».
Oh, et simplement parce que je sais que quelqu'un pourrait demander: Non, il n'y a pas de stockage / lecture / contrôle de la musique sur le Grit X, ni aucun paiement sans contact. Ok, avec ça, nous avons couvert tous les aspects non sportifs, alors soyons en sueur.
Utilisation du sport:
Il est fort probable que si vous achetez le Grit X, c'est pour le sport. Qu'il s'agisse de randonnée, de trail ou de triathlon, le Grit X couvre tous ces aspects à peu près également. Il prend en charge tous les principaux types de capteurs via Bluetooth Smart (mais pas ANT + – plus d'informations sur les raisons pour lesquelles cela compte encore dans un instant). Mais si vous êtes satisfait de la configuration de votre série Vantage, vous serez probablement heureux ici. Sauf si vous avez utilisé Recovery Pro, auquel cas vous n'avez pas de chance ici. Il en va de même pour le test orthostatique (mais honnêtement, je soupçonne que très peu de gens l'ont utilisé au-delà de la curiosité une ou deux fois).
Pour démarrer un mode sportif, vous maintenez le bouton central droit ou appuyez une fois sur le bouton inférieur gauche et sélectionnez Démarrer l'entraînement. Les deux vous amènent à la photo ci-dessous. Notez que l'icône GPS (la flèche) est toujours rouge, indiquant que le GPS détecte.
C'est ici que vous trouverez votre liste de sports. Vous pouvez stocker 20 sports dans le Grit X. Ceux-ci peuvent être personnalisés sur l'application de bureau ou pour smartphone Polar Flow.
X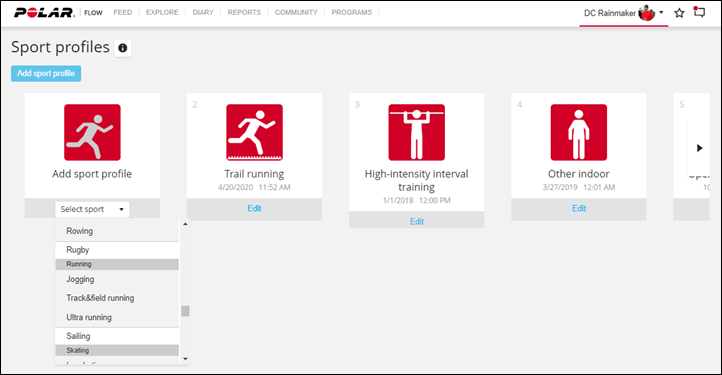 La personnalisation des sports couvre tout, des champs de données et des pages exactes que vous souhaitez afficher, ou la fréquence des taux de mise à jour. Vous pouvez également modifier les limites de zone pour l'allure, la puissance et la fréquence cardiaque. Ainsi que des tours automatiques et plus encore.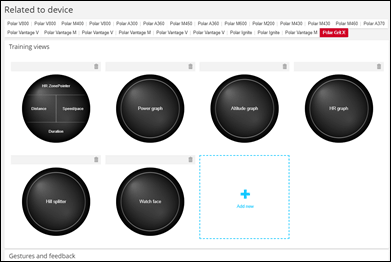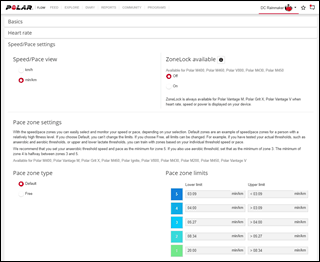 Par exemple, c'est ici que vous pouvez modifier le taux d'enregistrement GPS, ce qui peut vous permettre d'obtenir des durées de batterie plus élevées (cependant, cela peut également être modifié sur la montre elle-même).

Ces modifications sont synchronisées sur votre montre à chaque fois que vous synchronisez votre montre, ce qui peut être effectué via Bluetooth Smart sur votre téléphone ou un câble vers votre ordinateur. Habituellement, le processus de synchronisation prend environ 20 à 40 secondes via un ordinateur ou environ 30 à 60 secondes via Bluetooth Smart.
De retour sur la montre, une fois que vous avez sélectionné un mode sportif, elle s'éteint et trouve le GPS (s'il s'agit d'un sport de plein air), ainsi que verrouille la FC optique (si vous utilisez le capteur optique de FC). En outre, vous verrez également l'état du capteur répertorié:
Le Grit X prend en charge les mêmes types de capteurs que la série Vantage. Ceux-ci sont:
– Sangles de fréquence cardiaque intelligentes Bluetooth
– Compteurs de puissance Bluetooth Smart Cycling
– Capteurs de cadence et de vitesse de cyclisme intelligents Bluetooth
– Footpods de course intelligents Bluetooth
– Compteurs de puissance Bluetooth Smart Running (il comprend également un intégré)
Du point de vue du wattmètre, j'en ai testé quelques-uns différents. J'ai eu du succès avec un capteur de puissance Quarq et Vector 3, mais curieusement, je n'ai pas pu le coupler à un pédalier PowerTap P2. Je ne sais pas pourquoi. Vous pouvez cependant coupler facilement plusieurs types de capteurs à la montre via le menu Capteurs. Vous pouvez ainsi enregistrer efficacement les configurations de capteurs de plusieurs vélos, ou plusieurs sangles de fréquence cardiaque, etc.
Si vous appuyez sur le bouton supérieur droit sur l'écran de sport, vous obtiendrez une sorte de mini-menu de paramètres. C'est ici que vous pouvez sélectionner des itinéraires, recommencer pour démarrer la navigation, ajouter des compteurs à rebours / intervalles ou charger des entraînements structurés. C'est également là que vous pouvez configurer les paramètres d'économie d'énergie pour obtenir les 100 heures d'autonomie de la batterie GPS.
J'y reviendrai dans un instant. Donc, de retour sur la page principale une fois que vous avez verrouillé le GPS / FC / capteur, chacun des petits cercles devient vert. En outre, en haut, il montre approximativement la durée de vie restante de la batterie GPS. Évidemment, si votre activité est prévue plus longtemps que ce nombre, vous devez ajuster les économies de batterie pour l'adapter. Ou recherchez le câble de charge pour un rechargement rapide. Ou, arrêtez-vous simplement tôt et mangez de la crème glacée. Quoi que vous fassiez, ne vous entraînez pas plus longtemps que votre GPS ne peut enregistrer, car évidemment, cela ne compte pas.
Quoi qu'il en soit, appuyez sur le bouton central droit pour démarrer l'enregistrement. À ce stade, vous pouvez maintenant parcourir vos champs de données pour voir diverses mesures de n'importe quel entraînement que vous faites. Donc, si vous êtes à l'extérieur, vous verrez des choses comme la vitesse / allure, la distance, etc. Plus ou moins tout ce que vous attendez d'une montre GPS. Voici quelques photos d'un entraînement:
Les données du capteur s'afficheront également. Et, avec le Grit X, vous obtenez une puissance de fonctionnement native sans capteurs supplémentaires (ce qui signifie qu'aucun Stryd n'est requis). J'ai parlé de la puissance de course Polar dans la montre de la série Vantage – il n'y a pas de changement ici avec le Grit X. Il utilise l'accéléromètre de la montre sur votre poignet pour effectuer ces calculs. Cela a ses avantages et ses inconvénients, comme je l'ai indiqué précédemment.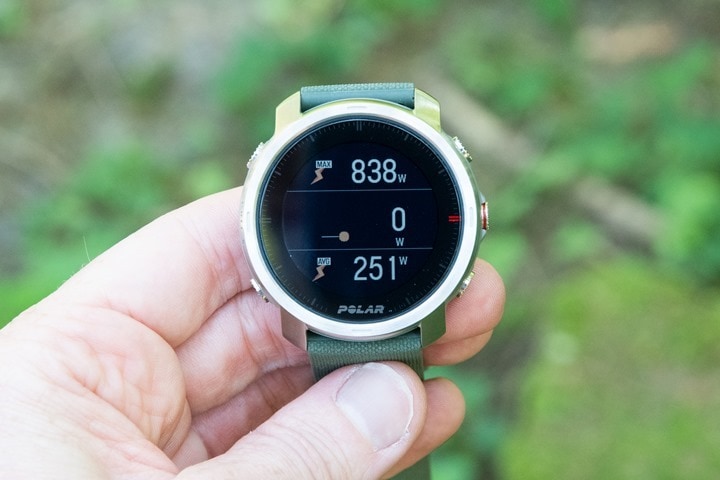 Si vous utilisez Hill Splitter dans votre profil sportif, cette page de données s'affichera également, même si ce n'est pas sur / près d'une colline: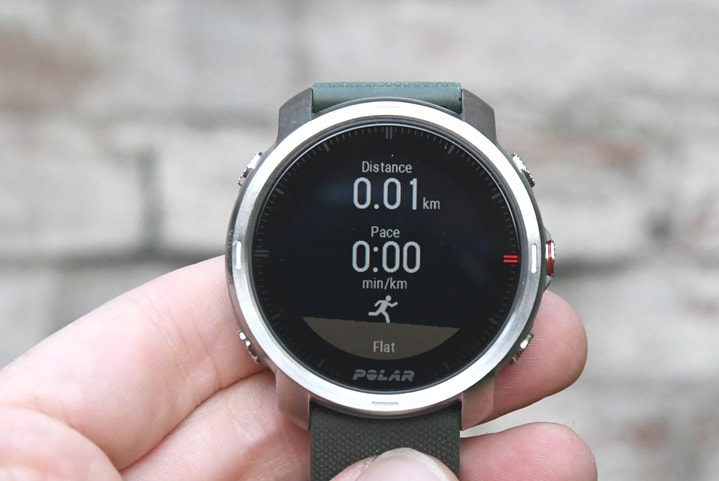 Mais nous n'allons pas parler de Hill Splitter ici. Au lieu de cela, toute la section suivante couvre cela. Alors, continuons à avancer. Et pas de meilleur endroit où passer à la nouvelle intégration Komoot. Cela vous permet d'obtenir une navigation d'itinéraire «tour par tour» pour un parcours. Auparavant, vous deviez créer vos parcours dans Polar Flow (ils ne prennent pas en charge les itinéraires Strava… pour le moment… mais ils sont prévus). Pour obtenir un itinéraire de Komoot au Grit X, les choses suivantes doivent être faites:
A) Associez votre compte Polar Flow à Komoot (dans Polar Flow, tout comme le couplage Strava / Training Peaks / etc…)
B) Créer une route sur Komoot
C) Faire activer la région de Komoot à partir de laquelle l'itinéraire commence à Komoot (ou, payée)
D) Synchronisez vos itinéraires Komoot avec Polar Flow (devrait se produire automatiquement)
E) Choisissez l'itinéraire spécifique dans Polar Flow pour le synchroniser avec la montre
F) Synchronisez la montre pour qu'elle apparaisse sur le Grit X
G) Activez l'itinéraire sur la montre elle-même après avoir choisi un sport
Vous avez tout ça? Oui, c'est un peu compliqué, à savoir l'élément «C» ci-dessus. Une région de Komoot est une très petite zone de terre. Aux États-Unis, il s'agit de votre comté (par exemple, King County pour Seattle). Aux Pays-Bas où je vis, c'est votre province (Hollande du Nord). Si votre trajet ne démarre pas dans cette région, il ne sera pas synchronisé avec Polar. Vous obtenez une région activée gratuitement à Komoot sous un compte gratuit, sinon vous devez payer pour des régions supplémentaires ou payer pour un déverrouillage de la carte mondiale.
En supposant que vous triiez tout cela, voici à quoi ressemblent les itinéraires dans Polar Flow à l'aide de l'option de synchronisation, vous pouvez voir ceux de Komoot avec les icônes au milieu, puis à droite ceux qui sont synchronisés avec ma montre: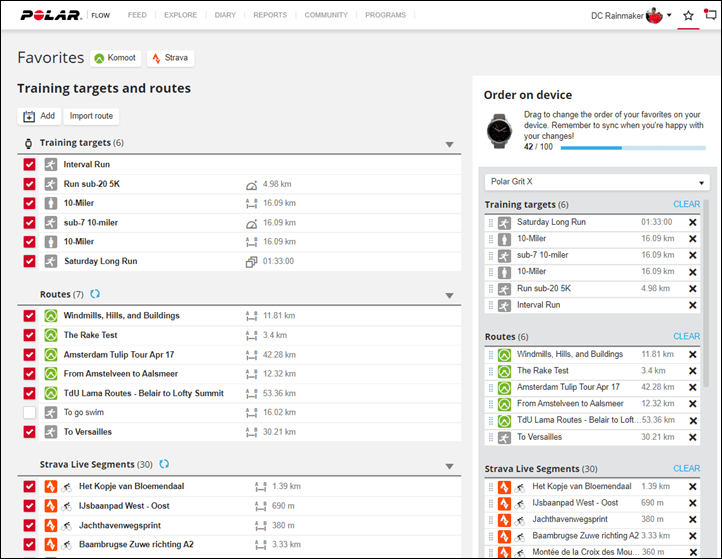 Ensuite, après la synchronisation avec la montre, allez dans le menu mini-paramètres et sélectionnez l'itinéraire. Il n'affiche aucune information sur l'itinéraire, mais il vous permet de choisir de le démarrer au début ou à mi-parcours.
Après avoir choisi l'itinéraire, il le chargera et indiquera l'icône sur l'écran du sport en attente.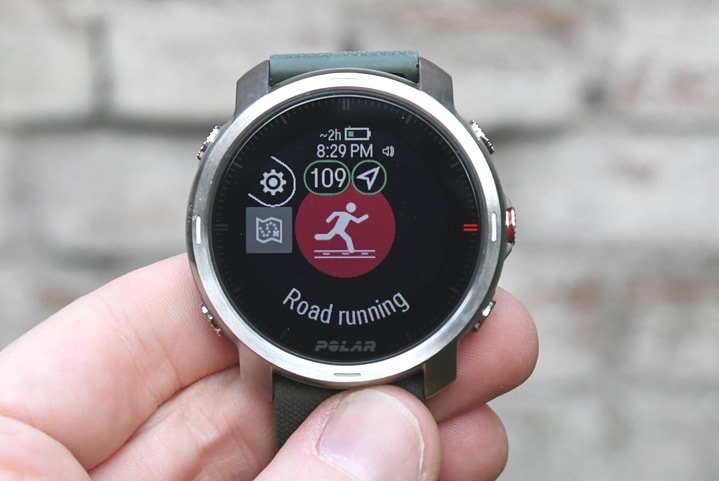 Une fois que vous avez commencé, cela apparaît comme un fil d'Ariane que vous pouvez suivre. Il n'y a pas de données cartographiques sous-jacentes, de terrain contextuel ou de ville / route / piste sur la page.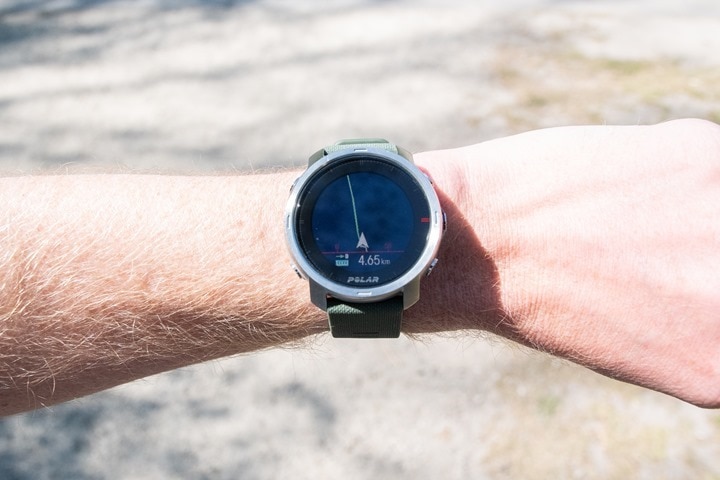 Cependant, à l'approche d'un virage, une petite flèche vous indique dans quelle direction vous devez aller: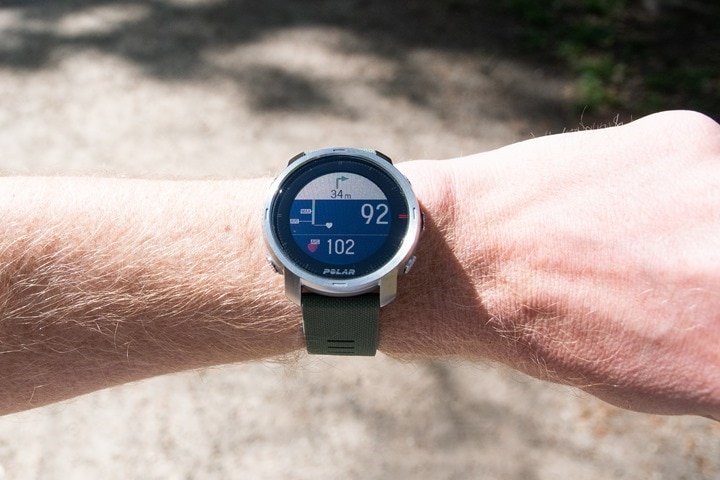 Si vous sortez du sentier, il vous en informera également.
Maintenant, mes tests ont été un peu mitigés ici. Lors d'une course, alors que je me suis momentanément écarté du parcours, cela a biaisé le reste du parcours après ce point d'environ 100 à 200 m. Cependant, lors de ma dernière course avec le routage Komoot hier, c'était parfaitement bien. Et puis à nouveau lors de la prise de ces photos il y a quelques heures, il a semblé confondre les virages à gauche avec les virages à droite (me disant de me tromper ou me disant d'aller dans les bois).
In any case, navigation aside, post workout you'll get summary stats on the watch itself, including Hill Splitter metrics. Here's a mini-gallery of those:
Also of note is that the route-name is appended to the activity throughout Polar Flow (and on the watch), so if you look in history, you won't just see a generic workout date, but the name of the route itself. A nice touch.
And even more detail over on the Polar Flow app (or web via desktop):
Now sliding back a bit – if you need to go longer than the 40 hours of battery life, within the Grit X there's expanded battery life options, getting upwards of 100 hours of GPS-on battery time. Albeit, with some reductions in tracking, screen update rate, or without optical HR. The following chart explains the core levels:
Up to 40 hours: 1-second GPS recording, optical HR enabled, normal screen update rate
Up to 60 hours: 1-minute GPS update rate, optical HR enabled, normal screen update rate
Up to 65 hours: 2-minute GPS update rate, optical HR enabled, normal screen update rate
Up to 100 hours: 2-minute GPS update rate, optical HR DISABLED (but using Bluetooth HR strap instead), screensaver mode enabled
To access these, you'll press the settings option at the start of a sport profile on the watch, and then choose the power saver settings: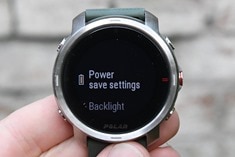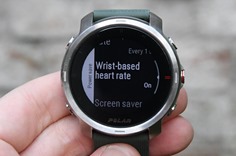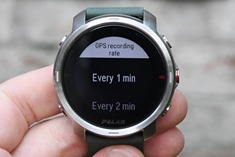 Essentially, these all break-down into four basic things:
– Reduced GPS Update Rates: Normally it updates at once per second, but there's an every 1-minute and every 2-minute option
– Turning off optical HR: This means you'd use a Bluetooth Smart HR strap instead (optical HR LED's take a lot of power at full strength in workout mode)
– Reducing screen update rate (screensaver): This is sorta the last thing you'd likely turn on, but this buys you even more battery, and is ideal for super-long activities where knowing the second by second details aren't frankly that important.
For the reduced GPS update rate at every 2 minutes, it works by turning on the GPS for 15 seconds, then turning it off for 105 seconds. As such if you use any reduced GPS update rates, keep in mind that the GPS track will cut corners. To demonstrate this, I did a simple route around my hood with a number of turns on a bike. In this case you can see how it cuts the corners. This is similar to how it works on Garmin, though, on Suunto while running/hiking they do some GPS route awesomeness with their FusedTrack that does actually plot a route (more on that here).
The dots are hard to see on the right (it changes the lines on Polar Flow), but you can see them if you look closely.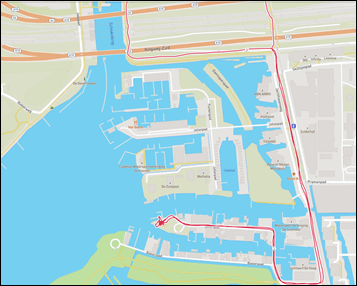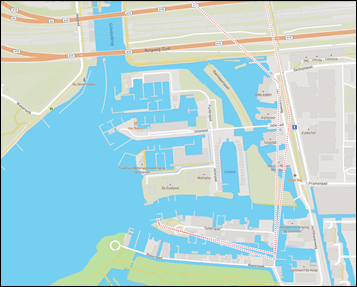 Of course, if you're going slow on mostly straight terrain – then it won't be a huge impact on things.  But, even in the mountain on switchbacks, keep in mind that an update rate of once every 2 mins means you might cut a number of corners. Again, I wouldn't ever enable these options unless you really, really, really need them.
Last but not least there's FitSpark. This was added in the Polar Ignite units, and then continued through in the Vantage series last year via updates. Essentially FitSpark is a virtual coach that has no overarching fitness/seasonal goal in mind, except to give you a workout of the day. But the biggest and most important take away is that it looks at your nightly recharge scores and underlying sleep data to determine whether or not you should be doing anything at all.
That's a super critical gap that's been missing. Most automated training guidance coaches/platforms don't do that. And by 'most', I mean, 'none do'. You could have a newborn at home and be days deep of horrific sleep, and they'll tell you to go out and run a 2hr long run. Whereas Polar will look at that sleep data and give you a go/no-go type guidance, and then depending on what your greater training data looks like, will also give you specific workouts to do.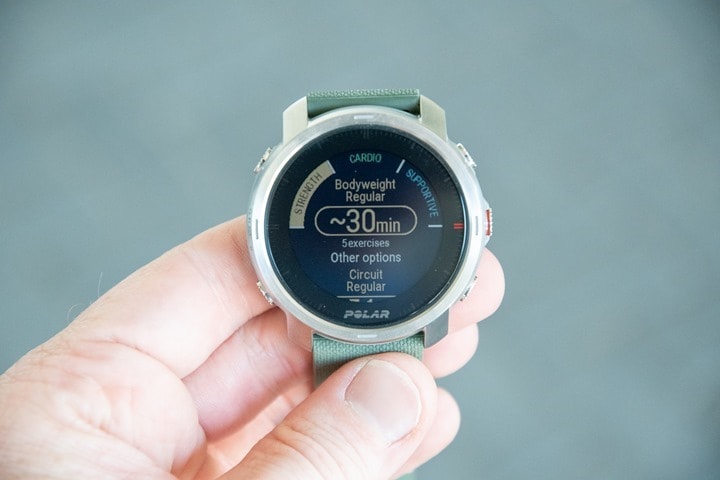 Remember, this isn't tied to a plan. Meaning, you're not tied to some 5KM running plan. This is basically saying 'Hi there, I know a scary amount about you, here's four options for workouts today. Pick one.' Oh, right, yes, it gives you options. Numerous options. Pick your poison: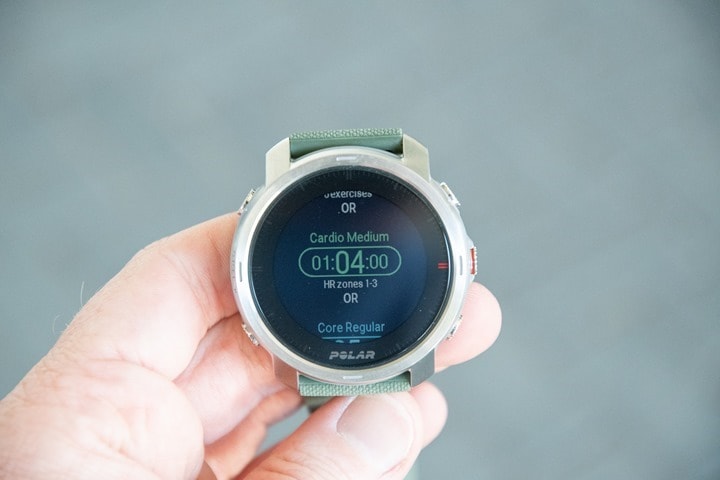 And then for each of those options it'll give you the specific steps and guidance in the watch itself. There are cardio-focused running workouts with different intensities. And then there are core type workouts too, and for those, it'll give you the specific moves to do, along with animations and text for each one: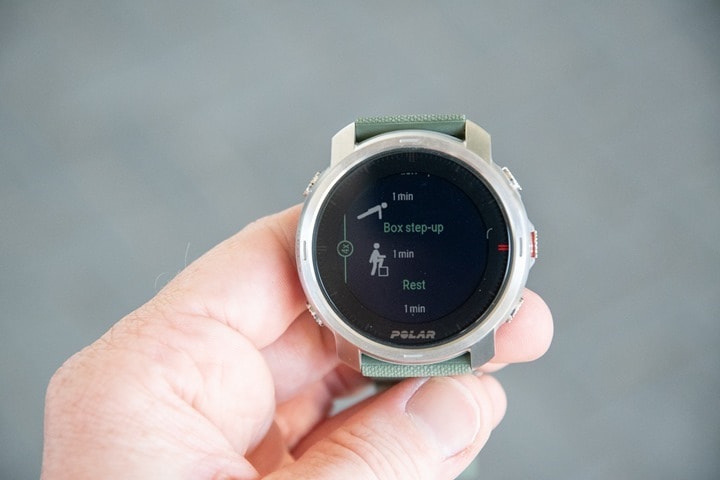 But let's say you choose the cardio workout, go run an hour or so, and then finish up. At that point, the watch gives you new suggestions. Specifically ones around active recovery such as stretching and related core workouts that'll help and support that initial workout.
Again, keep in mind the goal of this function isn't to be an endurance trail running coach. It'll suck at that. Instead, the goal is actually more applicable to date: To keep you fit and push you slightly with mostly varied workouts across disciplines (such as flexibility and strength).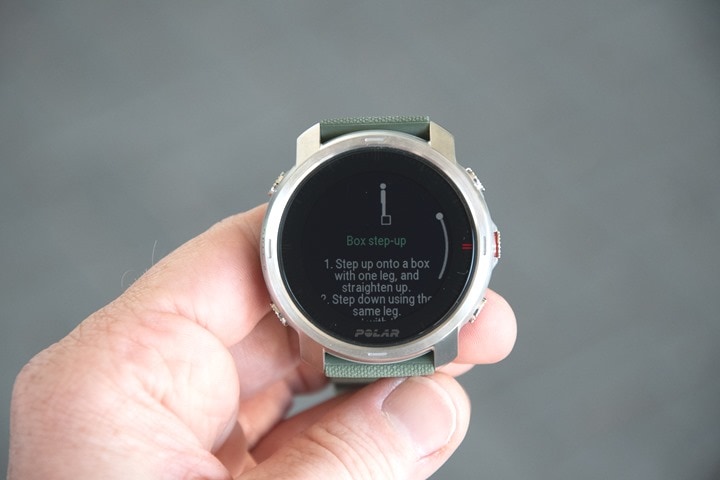 Ok, with that, I think I've covered everything there is in the sport section here. If I missed something, then definitely check out my Polar Ignite or Vantage reviews, as those will cover some of those aspects (and they're the same). An example being indoor pool support (the pools are all closed here), or triathlon support (no triathlons right now). Note that I cover the FuelWise and Energy source bits within their own section down below.
Understanding Hill Splitter: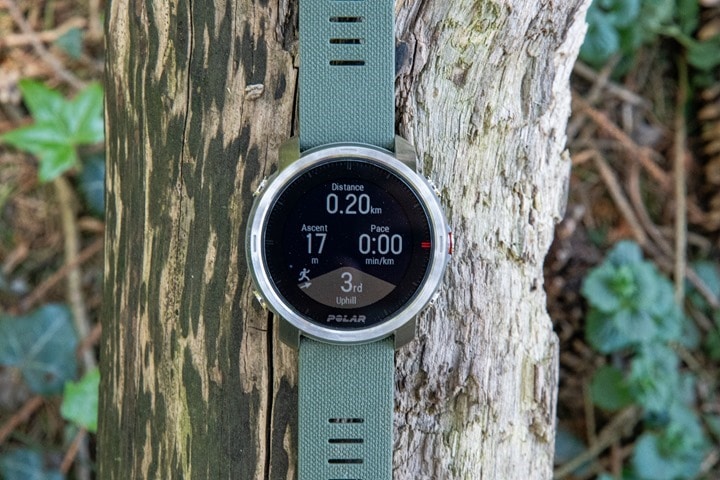 These three features are at the core of the new functionality within the Grit X. Thus I'm going to spend slightly longer to explain all three in more detail than what I touched on in the sport usage section. All are focused purely on sports of course. The point of this section being that if you already know all the sport basics on the Vantage Series, you can basically just read this section and the next and get caught up on these key new features. This section will be all about hills and climbing.
Hill Splitter automatically detects when you're ascending or descending a hill and will give you the time ascending/descending, as well as length of the climb/descent. It'll also count each ascent/descent. You'll see that on the screen each time you go up/down, as well as summarized afterwards on the watch and then on the app.
On the watch, this is accomplished via a new full-screen data page (named Hill Splitter). This page is non-customizable, but can be added to your watch. If you're on flat ground, this is what it looks like:
If you go up a very slight incline the 'ground' at the bottom of the screen will actually reflect that, before it toggles into full hill mode. Kinda neat. So basically false-flats would register there.
Next, as you start going up a climb, once you hit around the 8-10m of elevation gain marker, it'll trigger an ascent, and the screen changes to the below screen which shows how far you've run/ridden/hiked up that climb as well as the duration. And of course you see which number hill this is (e.g. 1st ascent):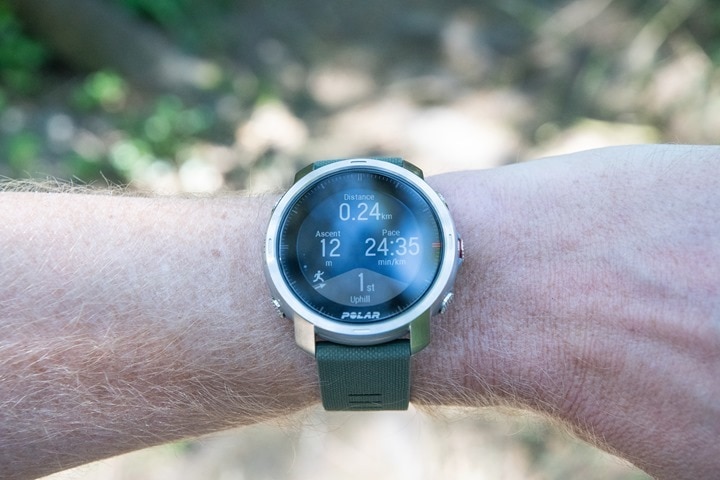 And that's basically it. Hill Splitter doesn't leverage courses in any way, nor does it show incline or anything else. You can however add the standard elevation page to your watch, and then you'll see incline there, but you won't see per-climb ascent metrics like you might on some other watches.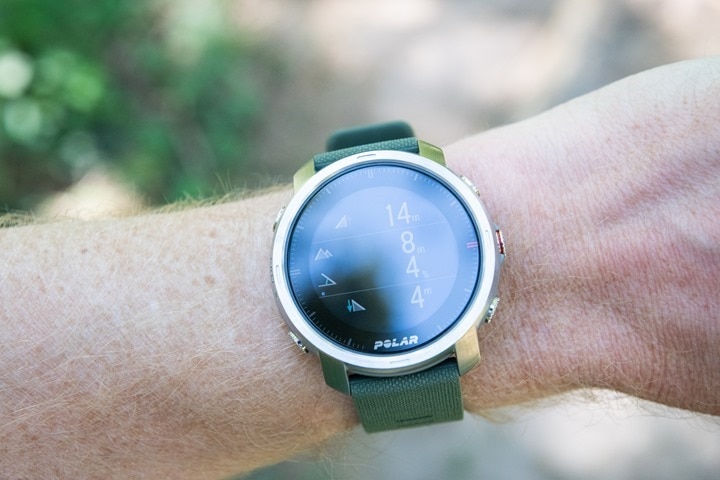 Meanwhile, once you're ready to descend, you see all the same metrics again, this time for descending instead: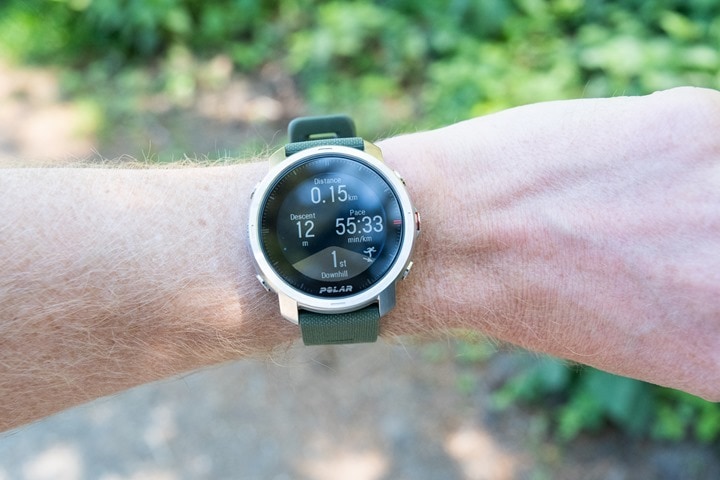 Afterwards, post-workout you'll see a summary display of stats showing how many hills you climbed and how much ascending/descending time. Though, it looks like there's still a few bugs here since those two should be identical numbers given my route was out/back and I did identical hill repeats.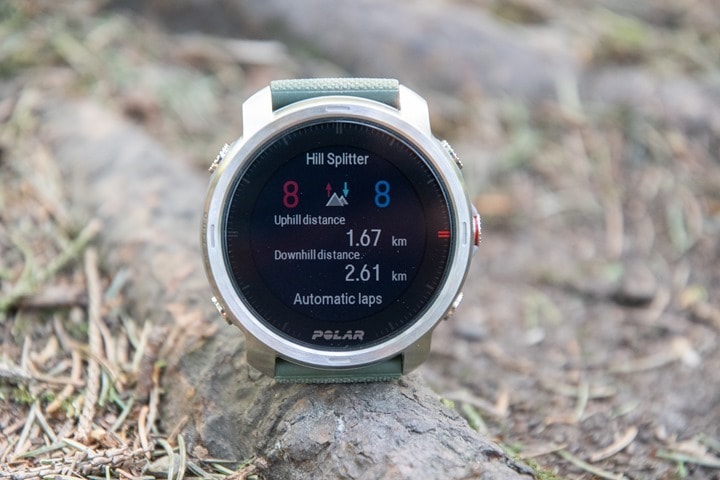 The detail is better once you crack open your smartphone though and look at the app there. You can see the exact details for each ascent/descent – this is great.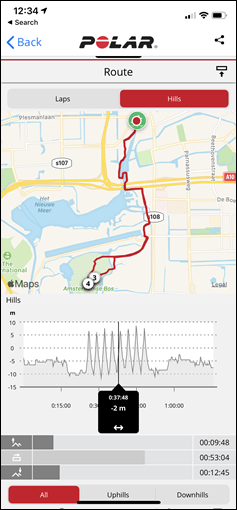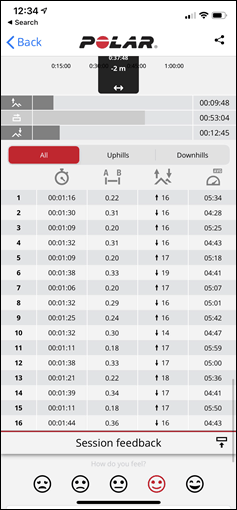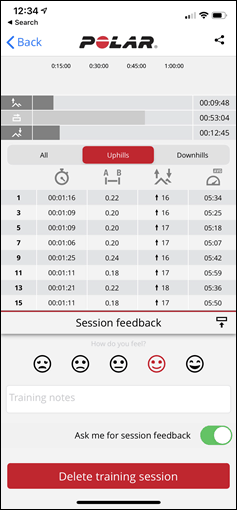 So – about now you're probably asking what's the difference between Polar Hill Splitter and something like Garmin ClimbPro. Well, that's kinda like comparing a paper airplane to a Boeing 747. Roughly. But, they also serve two different purposes. If I'm doing hill repeats out in the woods randomly, Hill Splitter is a actually a strong option. But for any sort of planned adventure, ClimbPro is far better. But still, if you need to throw an airplane across a room – it's easier to throw a paper airplane than a 747. But wait, there's the Cessna of Garmin Auto Climb. Which kinda sits in the middle.
Here's the high-level overview between these three technologies:
Polar Hill Splitter:
– Automatically detects a climb
– Shows current hill climb time, length
– Shows current hill ascent number (i.e. ascent #4)
– Shows current hill descent time, length
– Shows current hill descent number (i.e. descent #4)
– Doesn't show total climb stats mid-workout, just for that specific climb (other pages can though)
– Not dependent on any course (doesn't use them at all)
– Hill Splitter page not customizable
– Shows per-hill ascent/descent stats in workout summary on watch
– Shows per-hill complete breakdown stats in companion app
In my opinion, Hill Splitter is really best used when doing hill repeats where you care about the specific hill count, but less about your vertical ascent metrics. Meaning, if I'm doing 2-4 minute long hill repeats, I don't care what my vertical ascent rates are. I just want to know how I'm doing on that specific repeat. Whereas if I'm doing a trail run in the French Alps where the climbs are far longer (perhaps an hour or more easily), I care about the vertical ascent rate, current altitude, etc… I can get some of those metrics on other data pages, but not consolidated into one page.
Garmin Auto Climb
– Automatically detects a climb
– Adds a climbing data page when it detects a climb
– That page is totally customizable with any metrics (so you could add total ascent/VAM/etc..)
– Cannot show per-climb stats (e.g. this hill is 200m long), only run or lap total stats
– Can customize specific vertical ascent rate threshold (i.e. 1,600ft/hour)
– Can customize detection rates (how quickly it detects a climb or not)
– Does not trigger when going downhills
Garmin Auto Climb is mostly best for longer sustained climbs (such as that French Alps scenario above). Or, for trail runs such as in the Alps where I have multiple climbs over the run with each of them and care less about each one being a precise number, but more about my live climbing stats. While it doesn't track by default on a per-hill basis, if you're using the lap button (which, you probably are for hill repeats), then you can easily get those same per-hill/length stats by just having the Auto Climb set to lap totals for each one.
Garmin ClimbPro:
– Automatically detects a climb
– Requires a course/route be loaded ahead of time
– Automatically shows exact distance remaining in climb, ascent remaining, and average grade for climb
– Shows which climb # you're on (i.e. 2 of 5), with location on the climb
– Shows current vertical speed, current time of climb
– Shows graphical elevation map of the climb
– Can look ahead to next/upcoming climbs
– Has customizable data field
– Does not trigger when going downhills
– Variable minimum climb threshold based on totality of route (smaller climbs would show up on a flatter route, but not on a mountainous route)
Garmin ClimbPro is undoubtedly the Cadillac of climbing related data fields. I've used to numerous times in the Alps on courses with long climbs. Or more specifically painful climbs, often multiple climbs. It's fantastic when you have a known course. However, it's less ideal for other day to day type scenarios. For example, if you're just going out for a run and happen to live nearby hills/mountains, it doesn't work unless you load a course in it. It's also useless for hill repeats (Garmin Auto Climb above would work there). So again, back to that 747 vs paper airplane analogy, sometimes you just need a paper airplane. If I'm doing hill repeats locally, don't give me Climb Pro. Inversely, if I'm down in the Alps on a planned route trail run, don't give me Hill Splitter.
So, in summary, I actually like Hill Splitter as more of an everyday type of feature. Ignoring my sparse hill options here, I'd actually use Hill Splitter more than the Garmin ones for day to day usage. But, if I'm looking at the feature when in legit mountains that I'm trying to pace a longer run on, then I'd like to see Polar expand Hill Splitter to take advantage of things like the route (if loaded) or more of the details of the overall climb (such as ascent rates, etc…) on a single expanded climb-focused page. But again, it's a good start.
Understanding FuelWise & Energy Sources: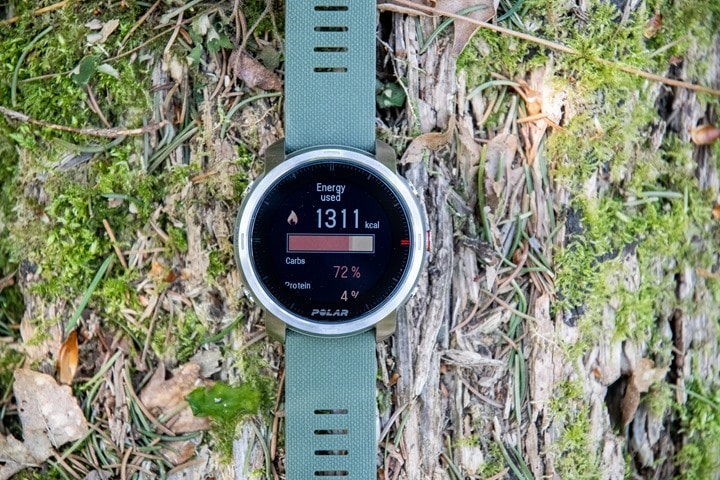 The new FuelWise and Energy Sources bits go hand in hand, though, they are distinct and separate features.
First up is FuelWise, which is accessed pre-workout via the 'Fueling' menu. This feature will offer both 'smart' and 'manual' alerts for carb replenishment mid-workout, for workouts of 90 minutes or longer. In addition, it can also trigger hydration alerts in conjunction with that. It doesn't matter the workout type, the functionality works the same.
To access it, you'll press the lower left button once, and then again down to Fueling: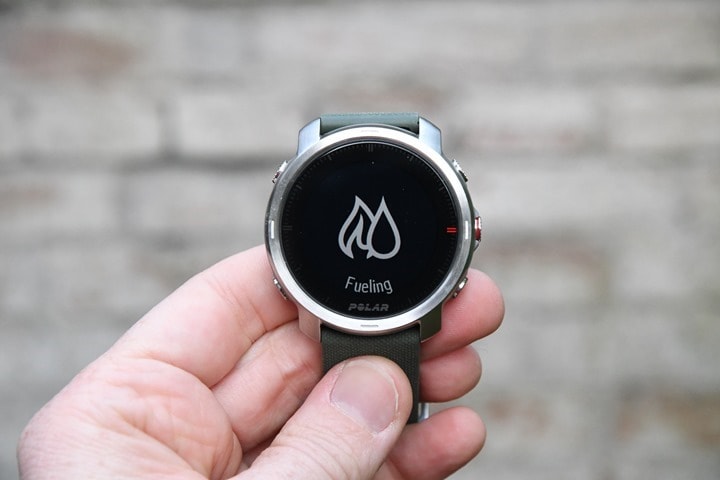 It's here you've got the three aforementioned options – Smart Carbs, Manual Carbs, and Hydration. Regrettably, a Spaghetti option is not shown.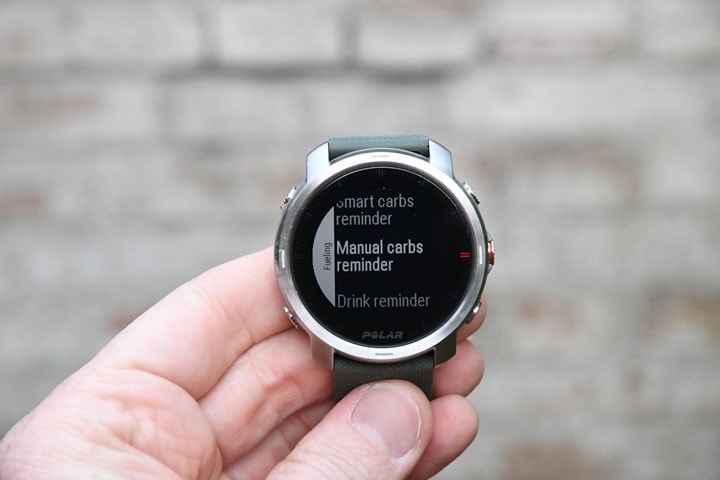 If you choose Smart Carbs, you'll specify the duration of the activity. The default, and minimum, is 90 minutes. If however you end up going longer, it'll continue offering alerts on a schedule it thinks makes sense.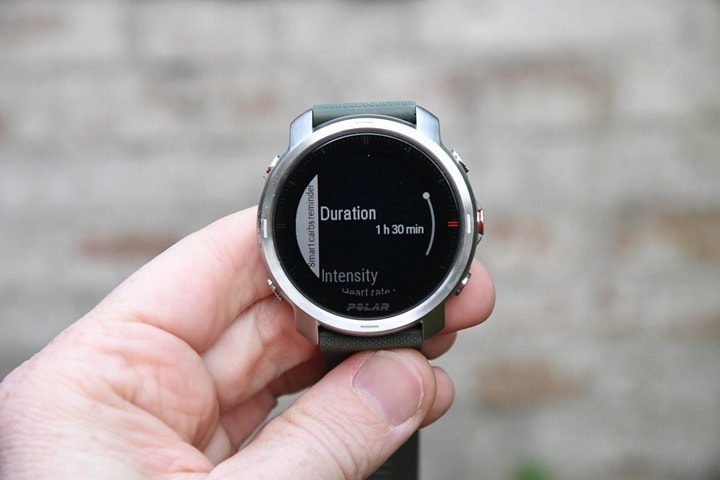 You can specify how many carbs are in each 'serving'. In other words, each gel pack serving size (or whatever it is you're eating). You'll also specify the heart rate zone of the workout.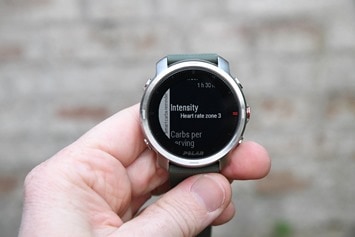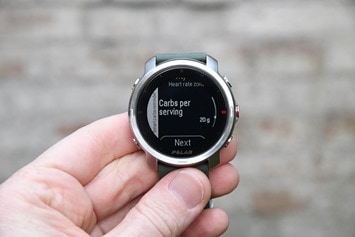 Based on these basic parameters it'll use what it knows about your past workouts in this zone and remind you to take in nutrients at specified intervals throughout the workout.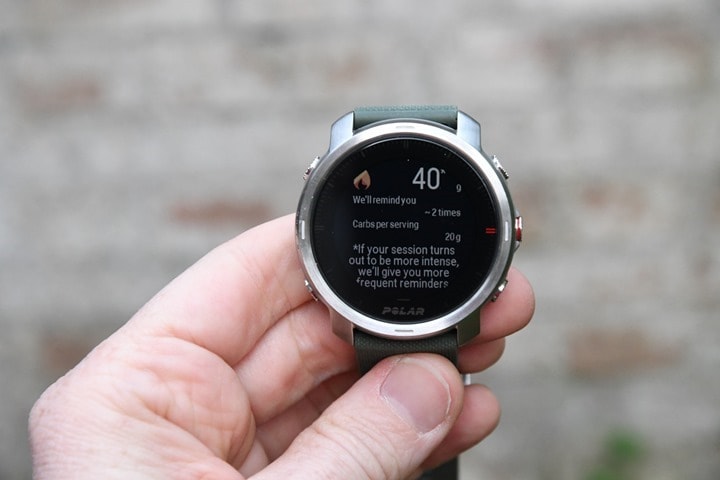 At this point, you can then add in automatic hydration alerts to the menu, where you'll specify how often you want to drink.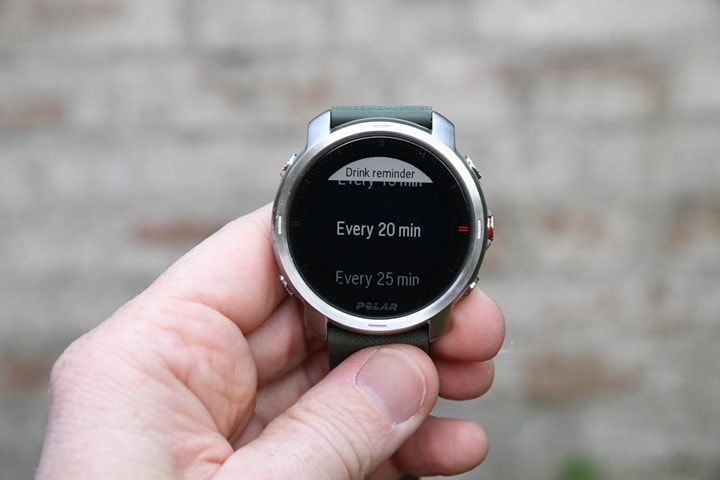 It specifies how much you should drink each time: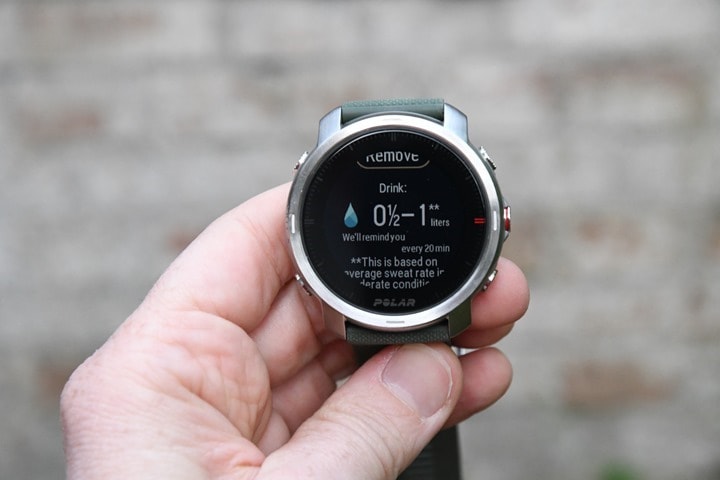 Once that's done you'll say you're ready to go, and it'll let you choose a sport. Along the side of the sport it'll show an icon indicating that Fueling has been added to that activity prior to pressing start. Note that if you've also added a workout or route, it'll rotate through the icons.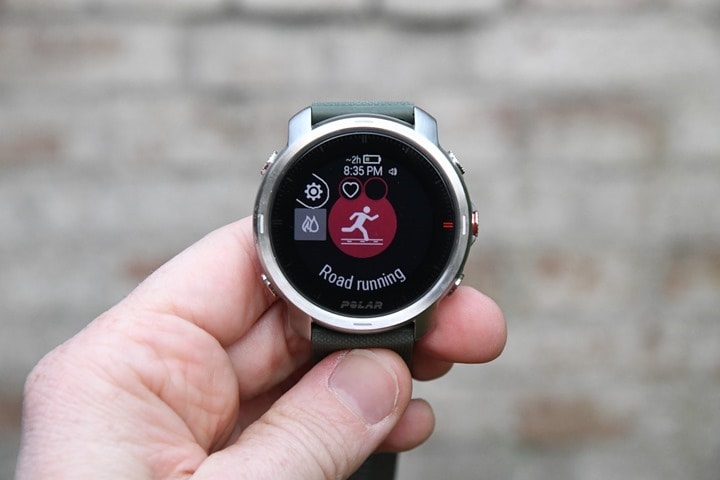 Finally, mid-workout there's a brief notification to drink or eat. It's super quick and only stays 2-3 seconds, and could easily be missed. I'd like to see it stay on the screen for 10 seconds, unless dismissed prior to that. I've got one super fuzzy photo of what it looks like in my video), but here's a better press shot (it's the same, except nowhere near as vibrant):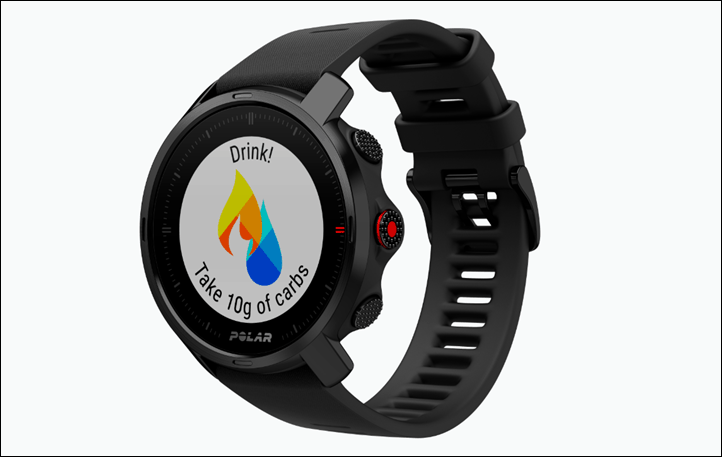 As for the 'manual' options, it's the exact same menu as above, the only difference is that you specify the exact interval for manual carb intake. The hydration menu remains the same.
At a basic level – this is good stuff from Polar. It's definitely not as advanced as we've seen from others, since it doesn't account for any weather aspects. For example, on a hotter day it doesn't advise you to drink more, nor reduce the liquids on a much cooler day. There also doesn't seem to be a ton of insight into how these calculations are made precisely. So I'd like to see a bit more there within the app somewhere.
However, the insights do come from some of your historical workouts. And that gets into the next bit, which is the new Energy Sources component. This is purely an after-workout feature that shows where your energy sources were for a given workout. You'll see this as you scroll down into the summary stats. Here's an example run: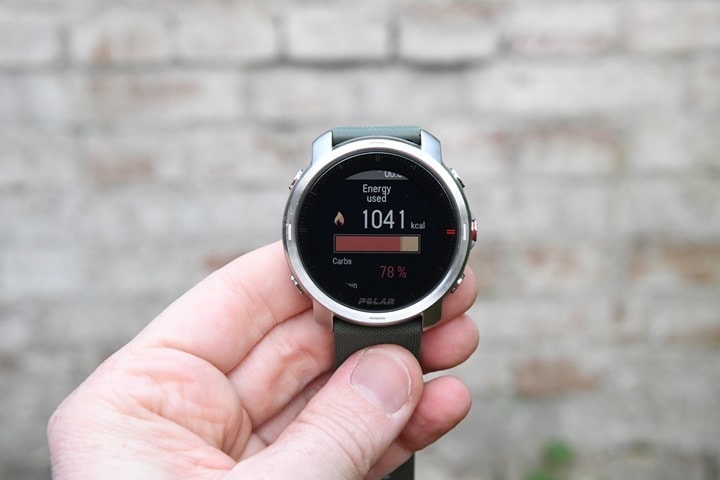 And as I scroll a bit further you can see the exact breakdowns: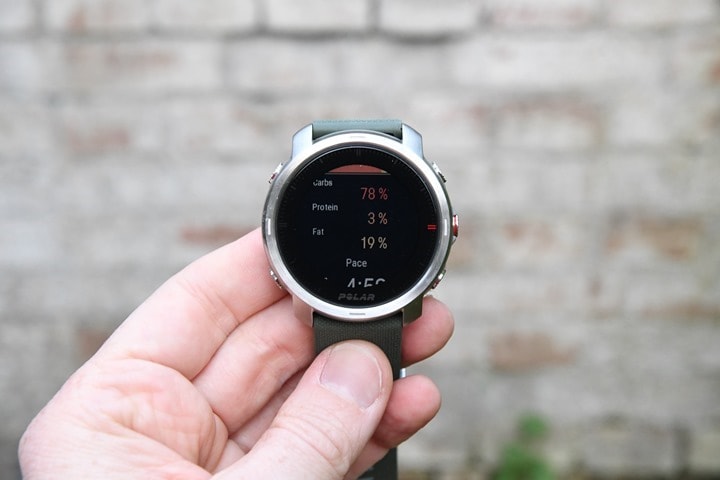 You'll also get these in more detail on the Polar Flow smartphone app, including a little slider you can move back and forth to see the shifts in energy: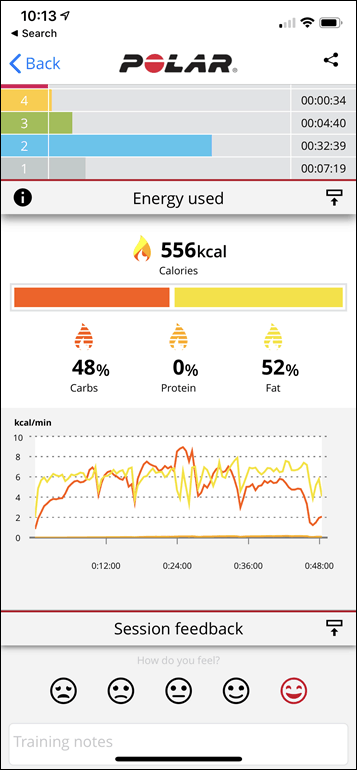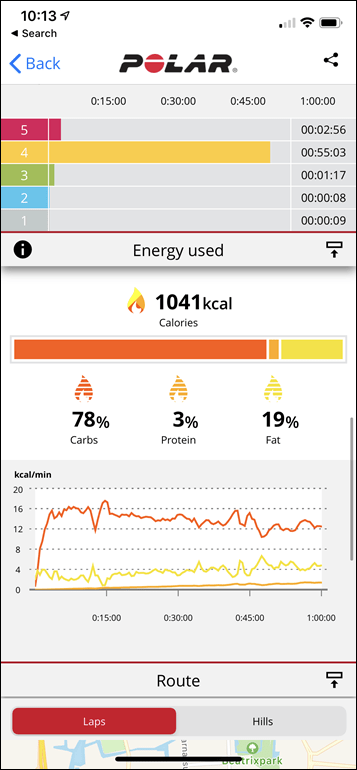 I like this feature more-so than the basic fueling components. But I'd love to see this in conjunction with structured/planned workouts. For example, if I load a 3-hour long structured workout at varying intensities, I'd love to see it look at my historical data for those zones and give super-specific information.
I'm sure Polar will get there. Like any company, you've gotta start somewhere and this seems like a reasonable place to start.
GPS Accuracy: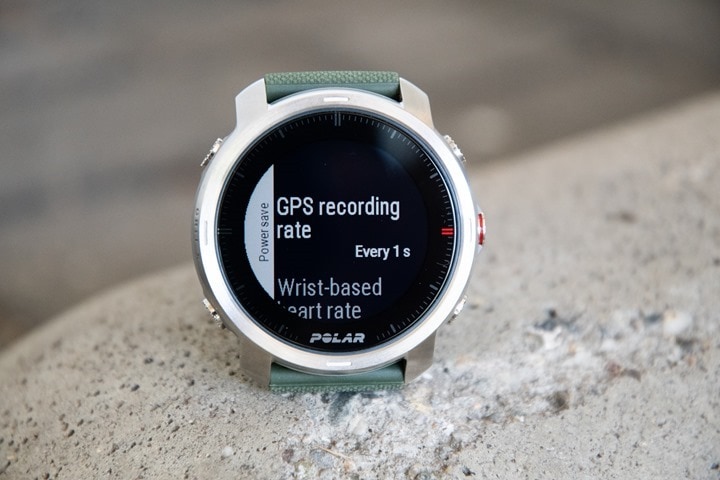 There's likely no topic that stirs as much discussion and passion as GPS accuracy.  A watch could fall apart and give you dire electrical shocks while doing so, but if it shows you on the wrong side of the road?  Oh hell no, bring on the fury of the internet!
GPS accuracy can be looked at in a number of different ways, but I prefer to look at it using a number of devices in real-world scenarios across a vast number of activities.  I use 2-6 other devices at once, trying to get a clear picture of how a given set of devices handles conditions on a certain day.  Conditions include everything from tree/building cover to weather.
Over the years, I've continued to tweak my GPS testing methodology.  For example, I don't place two units next to each other on my wrists, as that can impact signal. If I do so, I'll put a thin fabric spacer of about 1"/3cm between them (I didn't do that on any of my Polar Grit X activities however, all workouts only had a single device per wrist).  But often I'll simply carry other units by the straps, or attach them to the shoulder straps of my hydration backpack.  Plus, wearing multiple watches on the same wrist is well known to impact optical HR accuracy.
Next, as noted, I use just my daily training routes.  Using a single route over and over again isn't really indicative of real-world conditions, it's just indicative of one trail – that's why I use routes all over the place.  The workouts you see here are just my normal daily workouts.
First up, we'll start with something that's a blend of easy and challenging – a run through the forest. In this case it's got some wide open areas around fields, but also some fairly tree-dense locations. It's compared against a Garmin Instinct, a Timex R300 GPS, and even its sibling the Polar Vantage V. Here's that data set: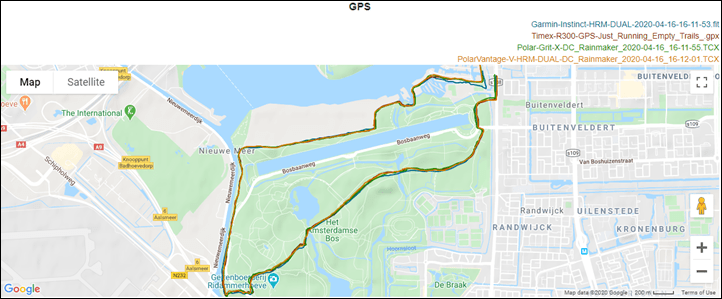 At a high level, things look kinda similar between them. Though, at the beginning there's clearly some mis-alignment coming from the Garmin Instinct:

Thankfully that mess doesn't last very long and the units all form a pretty close pack. There's a couple points below where the Vantage V is off in the woods a bit more, but the Grit X is actually nicely on-point here.

I mean, until we got to this point. Then it all went to crap:

Ahh yes, the much taller trees. All the units struggled here – though oddly in different parts. The Grit X actually did pretty well initially, but that sputtered out towards the 2nd turn. The winner on this segment? The $129 Timex R300 GPS. I mean, it wasn't a stellar track, but it was better than the others.
For the most part, nobody really nailed it the rest of the way through the woods. Everyone was sorta near the track, but sorta not:

But hey, once we got out to the fields, then it got acceptable by everyone again:

Distance-wise at the end of the day, they were all fairly similar. The Timex doesn't write its distance to the file as a summary field, but it's recorded distance was in the middle at 8.80km.

Now, let's increase the difficulty by going on tighter trails for hill repeats…eight times in a row. This will look at how well it can maintain the same exact loop over and over again (all, on trails). In this case I swapped out the Polar Vantage V for an Apple Watch Series 5. Just to mix it up. Here's that data set:

Ok, again, at a high level it's fine. And initially, as I was leaving the city, it was fine too (a tiny bit of offset on one direction to/from with the Timex R300, but nothing major):

The rest of the trail there was fine. So let's go straight on down to the hill.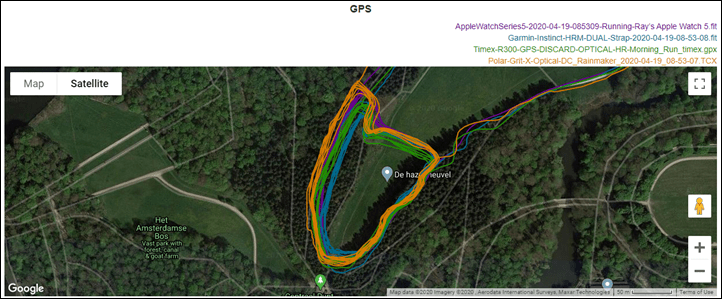 That's kinda pleasing in a visual sort of way. The right side of this circle is where I went up each time, and the left side is where I went down each time. Interestingly, there are two observations here:
A) Going up, they're all very very close. Within a few meters of each other on all the loops
B) Going down, they're a bit more spread out, but also aligned in groupings unto themselves
In other words, it seems like going downhill causes some 'drift' for each given unit, which is why we can see the colors more easily than not.
So who was closest? Well, it's tough – but I'd say it's a tie between the Grit X and the Apple Watch, with the Timex close behind. Which isn't to say the Instinct was far off. We're really talking just 5-7 meters off to one side at most. Very small differences.

Now, keep in mind my hills are pretty darn small here. Look, that's all I've got. It's not the size of your hill, but how you use it. Or, something like that.

Note that at present we don't show negative elevation values on the DCR Analyzer graphs, though this would be a case where it would be helpful. The hill starts below sea level. The three non-Timex units are all pretty close when you look at the scale here.
Next, let's increase difficulty again – this time throwing some tall buildings in the mix. Obviously, had this not been in the middle of a pandemic I would have gone down to the Alps for more detailed elevation and dense-tree testing, but I'm workin' with what I've got. So buildings it is! Here's that data set:

Well then, let's get straight to the chunks of metal:

Yup…that's a mess.
It's probably easier to rank them here on levels of suck:
A) Garmin Instinct: Winner of the most suck – it's drawing mountains in my buildings
B) Polar Vantage V: Strong runner-up of suck – it's multiple blocks away
C) Polar Grit X: Pretty good actually. Not perfect, but totally passable.
D) COROS Vertix: Well then, that's just about perfect. Nicely done!
The rest of the run was perfectly fine for the Grit X, with only a few minor quibbles here and there, no more than the other watches.

Next, let's switch over to some cycling. This is a big ol' loop around the area. None of the terrain is super difficult from a GPS standpoint, though there are plenty of buildings and bridges – especially earlier on. Here's that data set.

At a high level, things look basically identical.
And, at a medium level – they're still identical:

And a low level, they're still virtually identical. Even going under this gigantic highway overpass all units are basically the same. No wonky outliers here.

Honestly, this entire track is watching four lines all within a meter or two of each other at all times.

So yeah, kinda boring.
But ya know what? Boring is good for GPS accuracy. And overall this was pretty solid. I don't have any real complaints here. Comparing them to Vantage V GPS tracks there's clearly a bump-up in accuracy. My guess here would be that's probably more due to antenna design or power to the GPS chipset than anything else. Either way – whatever changes they made under the covers are solid!
(Note: All of the charts in these accuracy sections were created using the DCR Analyzer tool.  It allows you to compare power meters/trainers, heart rate, cadence, speed/pace, GPS tracks and plenty more. You can use it as well for your own gadget comparisons, more details here.)
Heart Rate Accuracy: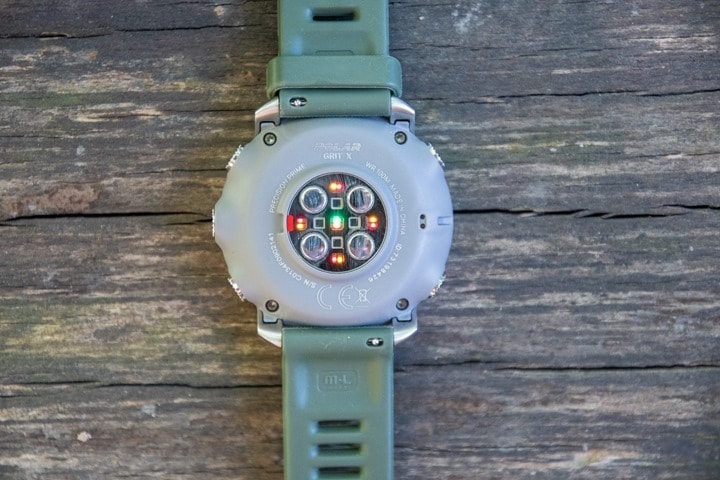 Next up we've got heart rate accuracy.  This roughly falls into two buckets: 24×7 HR, and workout HR.  As is usually the case with most devices these days, I see no tangible issues with 24×7 HR (it's exceptionally rare that I see issues in this realm, given how easy it is).  It works well across both normal daily routines as well as things like sleep.  Speaking of which, I talk about RHR values and 24×7 monitoring here and why it's interesting.
Before we move on to the test results, note that optical HR sensor accuracy is rather varied from individual to individual.  Aspects such as skin color, hair density, and position can impact accuracy.  Position, and how the band is worn, are *the most important* pieces.  A unit with an optical HR sensor should be snug.  It doesn't need to leave marks, but you shouldn't be able to slide a finger under the band (at least during workouts).  You can wear it a tiny bit looser the rest of the day.
Ok, so in my testing, I simply use the watch throughout my normal workouts.  Those workouts include a wide variety of intensities and conditions, making them great for accuracy testing.  I've got steady runs, interval workouts on both bike and running.
For each test, I'm wearing additional devices, usually 3-4 in total, which capture data from other sensors.  Typically I'd wear a chest strap (usually the Garmin HRM-DUAL or Polar H10, but also Polar H9) as well as another optical HR sensor watch on the other wrist (lately the Whoop band, Polar OH1 Plus, as well as the Mio Pod). Note that the numbers you see in the upper right corner are *not* the averages, but rather just the exact point my mouse is sitting over.  Note all this data is analyzed using the DCR Analyzer, details here.
We're going to start with something simple here first, a relatively stable run without a ton of variance. Here's that dataset.

Starting at the beginning, there's definitely some disagreement there – the Polar Grit X seems to be a bit slow on the uptake compared to the Polar OH1 Plus and Timex R300 GPS. Meanwhile, the Garmin HRM-DUAL chest strap had the rare initial spike (definitely not accurate). I got it wet (again) about two minutes into it and things got happy.
For the most part as you can see above, the graphs are virtually identical. However, there were three minor spikes that I can't account for from the Grit X. Lasting a few seconds each, but spiking to 170+:

Since that data set is largely pretty basic, let's shift over to the hill repeat data set. This one is compared against the Apple Watch Series 5 on the other wrist, and then both a Polar OH1 Plus and a Garmin HRM-DUAL chest strap:

At a high level things look good, but we do see a few orange blips (the Grit X) here, which is similar to what I saw before with slight HR spikes.
Looking more closely at those 8 hill repeats, you'll see that overall it was pretty good there. A tiny bit of lag though compared to the Apple Watch Series 5 and the HRM-DUAL strap. The OH1 was similarly slightly slower than the others too. Likely an indication of similar optical HR algorithms being used between the two Polar products.
But for the most part, the differences were very small there in those higher intensity sections.
Still, if we look at the rest of the workout we see those same little spikes again throughout:

None of them are huge – usually only a 5-7bpm bump. But still very obvious in these graphs, and certainly would shift someone from one HR zone to another.
For comparison, here's another data set, this one compared against the Polar Vantage V on the other wrist for optical HR. In this set, the Grit X is GREEN, and you can see those spikes that don't seem to exist for the Vantage V:

And what about an indoor bike workout? Ask and you shall receive. Very very close, but again in ORANGE you can see some of those little spikes of the Grit X. Hardly anything major – but certainly visible.

And finally – what about an outdoor ride. No prob – I've got data there too. Well…at least it wasn't the Timex here:

Ok, that watch is only $129 – ya win some, ya lose some. But for the Grit X in orange, it actually does really darn well. Like, crazy well for an optical HR sensor on my wrist. I see 1-2 problem points (around the 1:17 marker), but other than that, it's solid.

Though again, there are a few of those little spiky things here and there mixed in.
So overall the Polar Grit X optical HR story is a bit conflicted. On one hand, if we take away the quirky spikey things, then it's really really good – very solid and spot-on in almost every case. Easily among the best out there.
However, the small spikes are odd, and usually indicative of an algorithm failure somewhere. I've seen that before on other watches over the years, and in almost all cases the manufacturers can sort it out within a few weeks or months. So that bit bodes well for them.
Wrap-Up: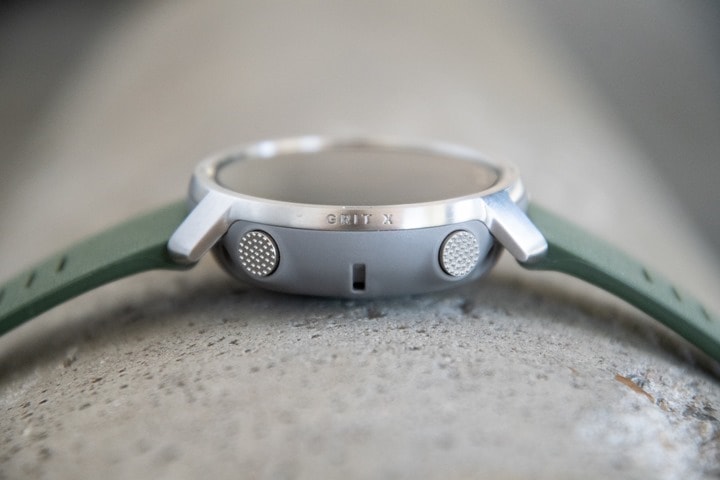 It's clear that Polar has seen the success of the outdoor/hiking/ultra focused market from their competitors in recent years, and the Grit X aims to replicate that success on their own product line. Some of the changes are cosmetic or external in nature, included to make the watch feel more rugged. While other features are true feature adds that cater well to someone going out and hiking or running through mountains. I think it's easily the best watch Polar has made to date.
Which isn't to say it's perfect. Some of the features, like the Hill Splitter, while aimed at the trail running crowd, need a bit more finesse to be really useful there. Things like accounting for the planned route or even showing more climb-specific metrics automatically would help it hit that target user group considerably. And then there's also the price. While $429 isn't too bad, I think it would have done really well at $399. Sure, it's $100 more than the Garmin Instinct – but it can cater to the multisport crowd whereas the Instinct can't.
I do think the lack of ANT+ support, while sounding old here, has made itself more obvious in the last two months with many people stuck indoors. The inability to pair to a smart trainer on apps like Zwift or TrainerRoad as a second connection of Bluetooth Smart (only Wahoo KICKR's support that, due to most other devices using older Bluetooth chipsets), means that you won't get all of the training load bits into the watch. Polar could easily solve that by enabling ANT+ in the Grit X (or Vantage series).
Still, I'm liking the direction of this. Polar largely isn't trying to compete purely on features here. They've found a rough balance between useful new functionality and keeping the price reasonable. And the tweaks they need aren't substantial, but rather minor feature refinements that can easily happen quickly.
And all of which ignores the fact that if you're looking for a triathlon watch, this is just as capable with full sensor support as anything else at that price point – or even slightly above it.
With that – thanks for reading!
Wanna Save 10%? Or found this review useful? Continuer à lire!
Hopefully you found this review useful.  At the end of the day, I'm an athlete just like you looking for the most detail possible on a new purchase – so my review is written from the standpoint of how I used the device.  The reviews generally take a lot of hours to put together, so it's a fair bit of work (and labor of love).  As you probably noticed by looking below, I also take time to answer all the questions posted in the comments – and there's quite a bit of detail in there as well.
I've partnered with Clever Training to offer all DC Rainmaker readers an exclusive 10% discount across the board on all products (except clearance items).  You can pick up the Polar Grit X (or any accessories) from Clever Training. Then receive 10% off of everything in your cart by adding code DCR10BTF at checkout. By doing so, you not only support the site (and all the work I do here) – but you also get a sweet discount. And, since this item is more than $99, you get free US shipping as well.
Polar Grit X (choose drop-down for band style- Clever Training 10% off)
For European/Australian/New Zealand readers, you can also pickup the unit via Wiggle at the links below, which helps support the site too! With Wiggle new customers get 10GBP (or equivalent in other currencies) off their first order for anything over 50GBP by using code [Currently Disabled] at check-out after clicking the links below.
Polar Grit X GPS Watch (EU/UK/AU/NZ – Wiggle)
Polar Grit X Accessory Band  (EU/UK/AU/NZ – Wiggle)
And finally, here's a handy list of some of my favorite Polar-specific accessories for Polar watches. Of course, being Bluetooth Smart compatible, you don't have to limit things to just Polar accessories, as seen below with the Wahoo sensors (I wouldn't recommend Polar cycling sensors).
Additionally, you can also use Amazon to purchase the unit (all colors shown after clicking through to the left) or accessories (though, no discount on Amazon).  Or, anything else you pick up on Amazon helps support the site as well (socks, laundry detergent, cowbells).  If you're outside the US, I've got links to all of the major individual country Amazon stores on the sidebar towards the top.  Though, Clever Training also ships there too, and you get the 10% discount.
Thanks for reading!